In Memoriam: Professor Sir Eric Thomas, Kenjin-Tatsujin and Ashinaga UK Trustee
Professor Sir Eric Thomas FMedSci sadly passed away on 10 November 2023, after a brief illness. He was the first ever Kenjin-Tatsujin member, integral to the foundation and success of the Ashinaga Africa Initiative, and an active, impactful trustee of Ashinaga UK from 2018 up until his passing.
Sir Eric graduated in medicine from the University of Newcastle-upon-Tyne in 1976, specialising in obstetrics and gynaecology once he became a doctor. His medical career included academic positions at the universities of Sheffield, Newcastle, and Southampton, and the publication of more than 150 research papers.
He was Vice-Chancellor of the University of Bristol from 2001 to 2015, Chair of the Worldwide University Network from 2003 to 2007, and President of Universities UK (representing all UK universities) from 2011 to 2013. He received a knighthood in the Queen's Birthday Honours 2013 for services to higher education.
He joined Ashinaga's Kenjin-Tatsujin International Advisory Council in 2013, becoming the first member of the group now including over 100 distinguished artists, performers, academics, politicians, and athletes who are socially active and globally conscious. Kenjin-Tatsujin are expert advisors to the Ashinaga Africa Initiative, providing valuable advice and guidance that enables us to improve our support and help Ashinaga Scholars reach their full potentials.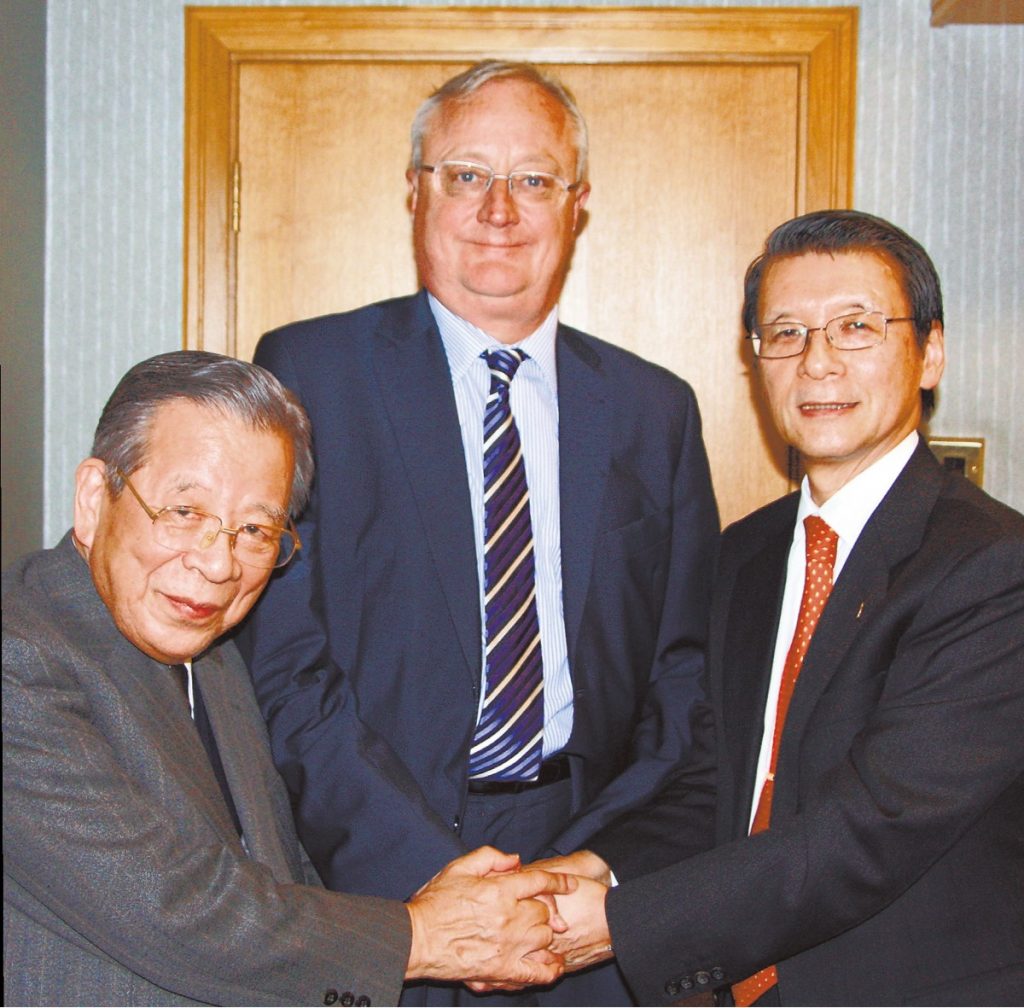 President Yoshiomi Tamai, Sir Eric Thomas, and the Japanese ambassador to the UK, Keiichi Hayashi, in 2013
As trustee for Ashinaga UK, Sir Eric was instrumental in helping Ashinaga establish itself as a UK-registered charity and form partnerships with universities. These partnerships included full or partial tuition-fee waivers, without which Ashinaga would not be able to support talented orphaned youth with undergraduate education in the UK.
Dr Michael Rivera King, former Director of Ashinaga UK and current trustee, said: "Sir Eric was a kind, thoughtful, and insightful man. He was a friend and mentor and I am struggling to believe that he has passed away. His incredible support for Ashinaga shaped our work across all offices but in particular in the UK, where he also served as a trustee. From guiding individual students to shaping our values and practices, his contribution cannot be overstated. He is hugely missed and our thoughts are with his family and friends."
Jordan McFarlane, Managing Director of Ashinaga UK, added: "Sir Eric Thomas undoubtedly had a profound impact on all areas of Ashinaga UK's work. Through Ashinaga's deep relationship with Sir Eric, we have been able to empower many future leaders for Africa and our work to achieve the AAI's mission has made great progress. His care for student wellbeing and for the success of our programme was always evident and his input and wisdom will be greatly missed."
In addition to his work supporting Ashinaga, Sir Eric had a profound philanthropical impact in the UK. He chaired the Government Taskforce into increasing voluntary donations to Higher Education, and the resulting Thomas Report, written by Sir Eric, provided a road map for universities to strengthen their fundraising programmes. The report was a catalyst for educational philanthropy to flourish in the UK.
Sir Eric was also a trustee of the Royal College of Obstetricians and Gynaecologists, HRH Commonwealth Study Conferences, IntoUniversity, and the Moorfields Eye Charity.
Sir Eric was a frequent visitor to Japan, where his brother has lived for over 44 years. It was in Japan that Sir Eric was introduced to Ashinaga's work, and generously signed up to give his support.
Last year, in a panel discussion marking the launch of the new Ashinaga scholarships with the University of York, Sir Eric reflected on the Ashinaga Africa Initiative: "it's a unique initiative and it feels very privileged to belong to it. One can foresee decade after decade going forward and some of these young students are going to make very huge difference to their countries."
It is partly thanks to Sir Eric that those students will be able to make that impact in the future – and this is just one example of Sir Eric's ongoing, philanthropic legacy.

Sir Eric Thomas talking to Ashinaga Africa Initiative Scholars at the House of Lords, London, 2017