Ashinaga USA Tsudoi 2021
For the second year, Ashinaga USA held their annual tsudoi virtually, gathering outstanding guest speakers and creating an opportunity for Ashinaga Africa Initiative (AAI) Scholars to connect. From the 19th to the 21st of December, 17 Scholars attended the 2021 tsudoi, under the theme of "Entrepreneurship and Networking."
On Day 1, we were thrilled to welcome back four Ashinaga USA Graduates: Alex, Juniour, Lerato (2020 Graduates), and Physiwell (2021 Graduate), who led our very first session. The Graduates organized their presentations based on various topics requested in advance by the Scholars. These included navigating academic challenges, maximizing resources and relationships, career choices, including graduate school and post-graduate life in general. Breakout rooms allowed for deeper conversations and opportunities for Scholars to ask questions directly to the Graduates. 
On day 2, Muhammed, Yabi, and Nathaniel, three of the current AAI Scholars, led podcast discussions within small breakout groups on mental health, African studies, and academics. Whether AAI Scholars or Graduates led the session, participants learned a lot from their peers, allowing an intergenerational conversation that exposed participants to new ideas and interests. 
Our first external guest speaker was Pierre Thiam, a chef, restauranteur, author, and social entrepreneur from Senegal. Through storytelling, Chef Thiam described his professional development, from being a student in Dakar to working in New York City restaurants to opening and running his own restaurants in New York, Dakar, and Lagos. Chef Thiam recently founded Yolélé, which distributes African food products worldwide, including fonio, a climate-friendly and nutritious ancient grain from the Sahel region of West Africa. He also recently opened his critically acclaimed restaurant Teranga with two locations in New York City. Our Scholars were particularly inspired by Chef Thiam's entrepreneurial spirit and resiliency; one Scholar noted, "I learned from Pierre Thiam that however difficult a situation is, there's always a way forward."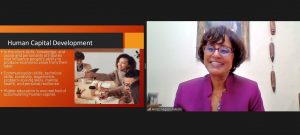 Our final day of tsudoi featured guest speaker Almaz Negash, the Executive Director and Founder of the African Diaspora Network (ADN). Leveraging more than 25 years of experience in international trade, business management, and social innovation, Almaz has been named one of the '100 Outstanding Silicon Valley Women of Influence' for her work in social innovation. In 2010, Almaz founded African Diaspora Network (ADN) to engage Africans in the diaspora and facilitate direct collaboration with social entrepreneurs, innovators, and business leaders to invest and improve lives on the continent.
Almaz presented on the topic "Investing in Education is Investing in Human Capital." The Scholars were particularly engaged in Almaz's advice on balancing personal care with a commitment to social causes and advocacy and how to leverage their personal interests and education to pursue entrepreneurial endeavors. Almaz's talk was inspirational for many Scholars. One Scholar mentioned that a big takeaway was that "African Education requires a holistic curricular change that embraces African backgrounds." Another student recalled a piece of helpful advice: "We should take things one step at a time, think micro, not macro, and accept progress from the grassroots and not worry about changing whole systems."
We closed the 2021 tsudoi with a Secret Santa gift opening. Before tsudoi, Scholars had been paired up and tasked to select a gift for one another. During this last session, Scholars opened their packages together, the 'Santas' were revealed, and students shared their heartwarming notes with everyone, making it a wonderful way for our Scholars to connect from a distance. We all hope that the 2022 tsudoi will bring us together in person in New York!