ASHINAGA SENEGAL
TAXAWU JÀNG ELEMENTAIRE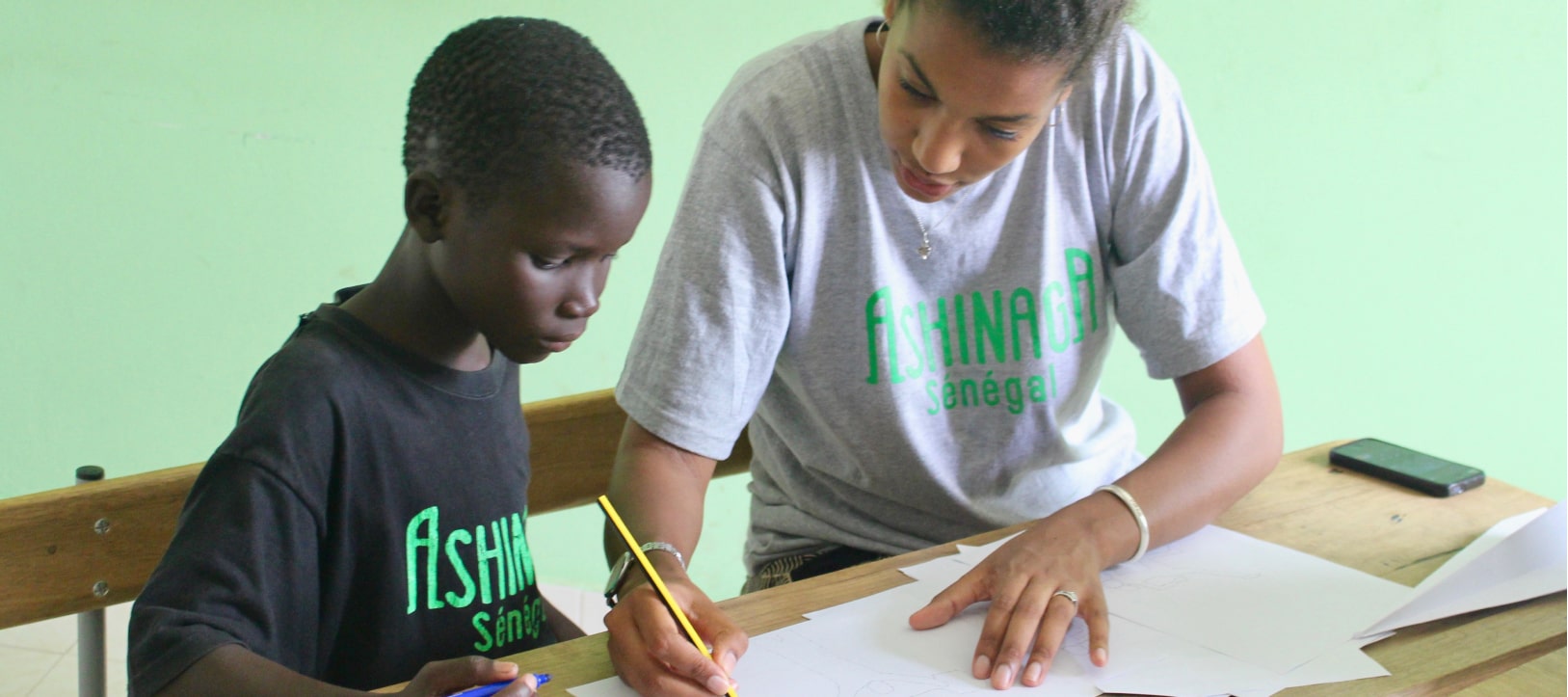 Ashinaga Senegal has been supporting the efforts of actors working for the development of the education sector in Senegal since 2016. Our TJE program aims to provide and secure access to education for each of our scholarship recipients until the end of their primary education, focusing primarily on young orphans of Senegalese nationality between the ages of 6 and 8 who are not yet enrolled in school or initiation course.
The support we provide is diverse and varied, including financial, academic and emotional support as well as access to healthcare. All TJE scholarship recipients have the opportunity to [MSK1] attend academic reinforcement classes and they receive a stipend to cover their basic educational needs. Several times during the year, we also organize socio-educative activities during day-long tsudoi*. Based on the philosophy behind the tsudoi organised by Ashinaga in Japan, these events, organized during school holidays, are moments of sharing, learning and discovery.
We attach great importance to the participation of each child's guardian in the implementation of this program. Therefore, we organize, along with educational experts and the support of the Ministry of Education, an awareness session [MSK1] at the beginning of each school year to draw their attention to and advise each guardian about the importance of their role in the education of their child. In addition, our regular social and academic follow-up ensures that all our scholars receive the support and attention they need, both at home and at school, to succeed academically. 
HOW DO YOU BECOME A TJE STUDENT?

Application criteria:

Orphan from at least one parent
Age 6 to 8 years old
From a vulnerable family
Willing to study in an elementary school from Dakar.
Taxawu Jang Universitaire (TJU)
"It was with great pleasure that I received the package of exercises from Ashinaga for the students during this forced leave due to the COVID-19 pandemic. A good example of complementarity with the Ministry of Education program called "Learning at home".
Beyond its educational aspect, as it allows students to consolidate their knowledge and abilities to meet the requirements of success, Ashinaga Senegal's concept encourages parents to invest in their child's schooling and, at the same time, contributes to a constructive dialogue between the school and parents within the framework of a shared educational responsibility." 
– Mr Thiam, School Principal of Biscuiterie B
This program targets high school graduates with a well-thought-out study project and career plan who show a strong desire to contribute, in their own way, to the development of Senegal.
During their support, our scholarship holders benefit from financial and socio-educational support; we cover all costs related to their studies – including but not limited to registration fees, tuition fees, school supplies, transportation costs and health insurance –  until they obtain their undergraduate degree. Students also have the ability to apply for a scholarship for their Master studies should they wish to continue their education and can clearly demonstrate the value of further study to their professional goals.
In addition to financial support, we organize personal and professional development workshops to reinforce their knowledge and skills and ensure their integration into the world of work. Our student-centered model places an emphasis on academic excellence while also ensuring the development of the broad range of skills, qualities, and values that Ashinaga expects in all students.
Today, our students are studying in some of the best private universities in Dakar and Thies. Studying towards a diverse range of degrees and with a strong support network outside of their studies, they are all well placed to secure jobs that will position them as actors of development in their communities.