Ashinaga Internship Program Begins in Tokyo
22 interns from around the globe made their way to Tokyo in the middle of June for a summer of gaining professional experience, building new relationships, exploring all parts of Japan, and for some, learning a new language with Ashinaga.
Within Ashinaga, there are up to eight different teams that students can intern for during the summer. The Student Relations Team (SRT) provides support to Ashinaga Africa Initiative (AAI) scholars, while creating a "Orientation Guide" for their first experience moving to Japan. The Translation Team supports various departments translating materials into English, Japanese and French to make information more accessible. The Media Team designs promotional materials, manages social media channels, and produces video content for the AAI, in cohesion with the Professional Network Development Team, who researches Sub-Saharan African companies and data to benefit AAI students and their futures. The Student Ambassador Team aims to build up Ashinaga chapters at universities across the globe, and finally, the Kenjin-Tatsujin team works to help oversee and manage relationships within the Kenjin-Tatsujin International Advisory Council.
During the experience, interns live at the Kokorojuku alongside Japanese and AAI scholars. The Education Support Team provides English language lessons and team-building activities for scholars at the respective Jukus in Tokyo and Kobe. In the evenings, everyone congregates together to practice their Japanese and English, watch the World Cup, cook meals, and play ball. The interns have enjoyed integrating into Juku life. Student Ambassador Team member Louise Gueydon surprised her roommate with a cake and gift on her birthday.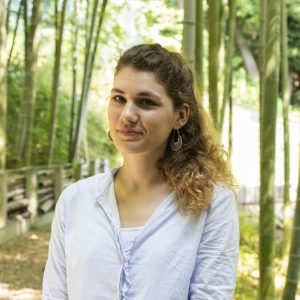 "I called all the interns to meet after daily Juku cleaning and sing Happy Birthday. She was surprised and really happy," Louise said. "I like getting to meet people from around the world living in the Juku and learning about new cultures."
On Saturday June 30, interns traveled to the National Olympic Centre for Tsudoi Leader Training, where they learned about the history and purpose of Tsudoi. The Undouka intern team worked on coordinating Tsudoi activities across Japan to create a fulfilling experience for Ashinaga scholars. Interns met with university Ashinaga scholars and received training for facilitating fun games and providing emotional support for high school students at Tsudoi. Each intern will travel to distant Japanese prefectures for a week at a time to participate in Tsudoi experiences in August. SRT member Chen Zhao enjoyed learning about his role as a volunteer for Tsudoi.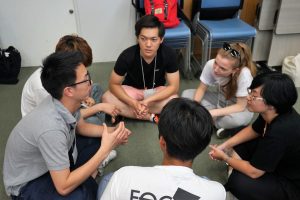 "I haved lived in Japan for four years, but most people I meet are college students. It's a precious opportunity to meet high school students in Japan, and I wouldn't have that chance without Tsudoi," Zhao said. "I thought we would need to give advice to students, but they told us listening is much more important." To learn about Tsudoi please visit our page for more information. To find out how to intern for Ashinaga, please visit our Intern With us page for more information.